As FITC wrapped up its 14th year, Spread Your Word Marketing Group has already marked our calendar for next year's event.
Briefly, because it would be impossible to describe this event in only a couple of sentences, FITC Toronto 2015 is a three-day professional celebration of the best the world has to offer in design, web development, media and innovation in creative technologies. For more information on FITC, please visit http://fitc.ca/event/to15/.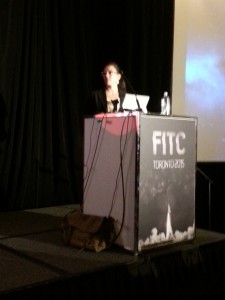 With an incredible agenda and an amazing line up of speakers, FITC 2015 was a definitely a conference to remember. With three different track options for attendees to choose from, Spread Your Word Marketing Group's Founder and Leader, Andrea Kennedy, hosted one of the tracks and had the opportunity to attend some of the speaking engagements on Sunday, April 12th; day one of the event.
The FITC website says it best when they describe the conference as "focusing on creatively-minded technology, every speaker has a way of conveying their thoughts, their passions, in a lovingly curious way."
For an overview on day one of FITC Toronto 2015, you can click here http://fitc.ca/article/fitc-day-1-recap/.
Look for an upcoming highlight video of FITC 2015 in the near future!