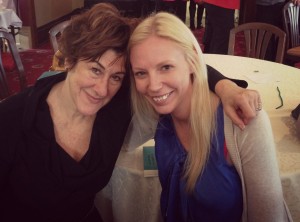 This past Sunday was International Women's Day. In the Durham Region, the past two work weeks were filled with celebrations, including the Whitby Chamber of Commerce's Connect.Women event. On Tuesday, March 10 I had the pleasure of attending a networking breakfast presented by Heart of Networking and the BACD, in honour of International Women's Day.
Janet Kestin, an advertising whiz, author of "Darling You Can't Do Both," Founder of Swim, among other incredible things, was the keynote speaker. Creating excitement and buzz in a room full of almost 100 women, Janet dove into struggles that women face within their professional careers.
As someone who believes that breaking the rules has been the key to her success, Janet instilled the need for a change in women who feel they should never "make waves".
I need to preface the following by stating that not all women will relate, but some will.
Women avoid making waves by:
Saying "yes" when you want to or should say "no".
Following the belief that nice girls don't get in people's faces.
Women aim to please EVERYONE.
This list is by no means exhaustive, and I'm sure you can think of other ways that women avoid making waves. In fact, according to Janet, the number one reason women avoid making waves is the aversion to conflict.
I can speak confidently to this list as I certainly can relate.
Janet asked the audience "How many of you are pleasers?" 80% of us raised our hands. It is a fact that women want to please everyone around them, most often more than themselves.
Making waves isn't a bad thing. Sometimes, it's the right thing to do. For example:
Saying "no" can be the right thing to do. Stop saying yes when you want to say no.
It's OK to tell people how you feel, even if it isn't what other people want to hear.
Putting your own happiness before others is not selfish.
Although I am only one chapter into Janet's book, also authored by Nancy Vonk "Darling, You Can't Do Both", it's one I can't put down. After, I will be sure to share a follow-up post with a book review.
Here is a link to an interesting article about the back story of Janet and Nancy's newest book, and how they got to where they are today as women leaders and living proof that women can do both: http://www.theglobeandmail.com/report-on-business/careers/careers-leadership/motherhood-or-career-a-dynamic-duos-case-that-women-can-do-both/article19054875/?page=all
Can you relate to having an aversion to conflict? What are some of the ways that you avoid making waves? Let us know!  You can send me an email at amy@spreadyourword.ca or post your comment. Let's keep the discussion going and change the mentality of women in the workplace, about themselves and how their co-workers and leaders see them.