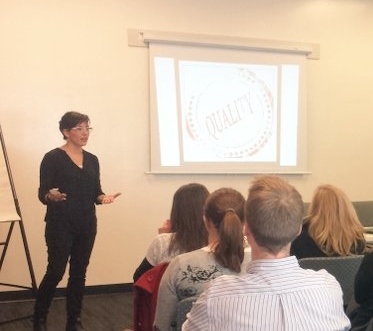 Last Thursday afternoon, I attended a workshop on the foundational elements of marketing presented by Andrea Kennedy at CORE21, in Oshawa. Through intent interest, questions and comments, it was clear the audience was engaged and walked away with a list of actionable items they were ready to apply to their business.
The audience learned about the foundational marketing elements through the acronym STICK and how they should be implemented into a business. The key to marketing success begins with the following five foundations:
1. Strategy – Laying the foundation for what you do and how you do it.
2. Target – Who and where are your people? How are you going to reach them? No one has an "everyone budget!"
3. Irresistible Messaging – How do you show up and talk about yourself through online and offline channels?
4. Consistent – Consistency is the key to marketing success.
5. Keep your Clients – After you acquire a new client, how do you make sure you keep them coming back to you?
Andrea is a community leader and marketing expert that is available to speak to your group! If you would like to book Andrea to speak, please send an email to info@spreadyourword.ca.
This workshop was organized by Spark Centre as part of their Startup Skills Speaker Series. For more information on Spark Centre and to find out about more exciting events like this one please visit http://www.sparkcentre.org/.