The 2015 Toronto Pan Am Games wrapped up this weekend with the Parapan Am Games set to begin on August 7th. With several locations throughout the Durham Region being host to some of the Games, local businesses have the opportunity to leverage the events within their own community.
Amy Breedon of Spread Your Word Marketing Group co-authored an article featured in Whitby Chamber of Commerce's publication, Ascenture, focused on how the local business community can leverage not only the Games, but how getting involved in other community events can positively impact business.
To read the full article, click here.
The opportunities to become involved in community events are endless; the Pan am Games are just one example.  Creating a local event list by researching upcoming opportunities is a great way to keep yourself organized and to decide which events are the most beneficial for you to attend.
Does the event align with your business – does it make sense for you to be present?
Are your peers going to be present?
Will there be prospective clients at the event?
The Whitby Chamber of Commerce suggests some of the ways you and your business can get involved in your community:
Become an event partner or set up a booth at a local event – If the event fits with your business then it makes sense for you to be there. For example, an Insurance Brokerage setting up a booth at Autofest aligns well.
Run a contest or giveaway – If you are present at a local event and there is opportunity, you can gain attraction if you run a contest. One example could be having a visitor's name entered into a draw if they agree to sign up for your newsletter.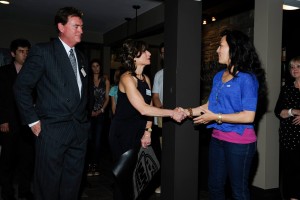 Get out there and meet people! – Meeting people face-to-face and having quality conversations will benefit your business greater than a Facebook like. Building relationships offline are vital to building your business network.
Have you gotten involved in any local events lately? What is your strategy for community involvement for the upcoming fall seasons? Let us know your thoughts by emailing amy@spreadyourword.ca.
Pictured from left to right is Dr. Dave MacAskill, Cathy MacAskill and Andrea Kennedy at MacAskill Chiropractic & Wellness Centre's Grand Opening of their new location.